The Facebook Profile Purge has Begun!
Last month, I told you about how Facebook is looking to purge accounts that violate there terms of service. One of the ways a Facebook account can violate their terms of service is if a business creates a Facebook profile (that's what individuals use to talk to their friends, by the way) and uses it for business purposes. In other words, if people have to "Friend" your Facebook business, you are in violation. Well, it seems that the Facebook purge has begun.
Techcrunch.com and JonLoomer.com have both reported that profiles are being deleted. You might be wondering if there's anything you can do, if you have one of these accounts. Don't worry there is. Since Facebook is now actively seeking out and destroying these accounts, you have even less time to get the problem fixed.
The way that you can get it fixed is to migrate your Facebook Profile to an actual Business Page. This is something I've done before and have had no problems with. If you are looking for a step-by-step guide in how to do this, you can find it here. If you're apprehensive about handling this yourself, or maybe just don't want to deal with it, then give me a call: (417) 827-2952, or email me. I will be happy to help you. It doesn't take very long to do, so the cost would be minimal.
But wait, there's more. What if you already have a Facebook Business Page and a Facebook Profile with the same name. If this is the case, it's a fairly easy fix. First, I would make sure that the Facebook Profile (with the same business name) is not the only admin of your page. If it is, add someone else as an admin temporarily (preferrably someone that will give you access back if something happens). If you're account has not already been deleted, then just go into your settings and change your name. Below is a screenshot from a short tutorial to tell you how to do this. If you're account has been deleted already, then you will most likely have to create a new account (under a real person's name) or use your own account to admin the Facebook Page. Again, you will need to add an admin. This time, however, you will need to direct the other admin to add you instead of the other way around. Send them a message and attach the tutorial for how to do this. Make sure you've liked the Page first under an appropriate account, or the process will seem frustrating! Then you should be all set.
As always, if you have any questions, just drop me a line.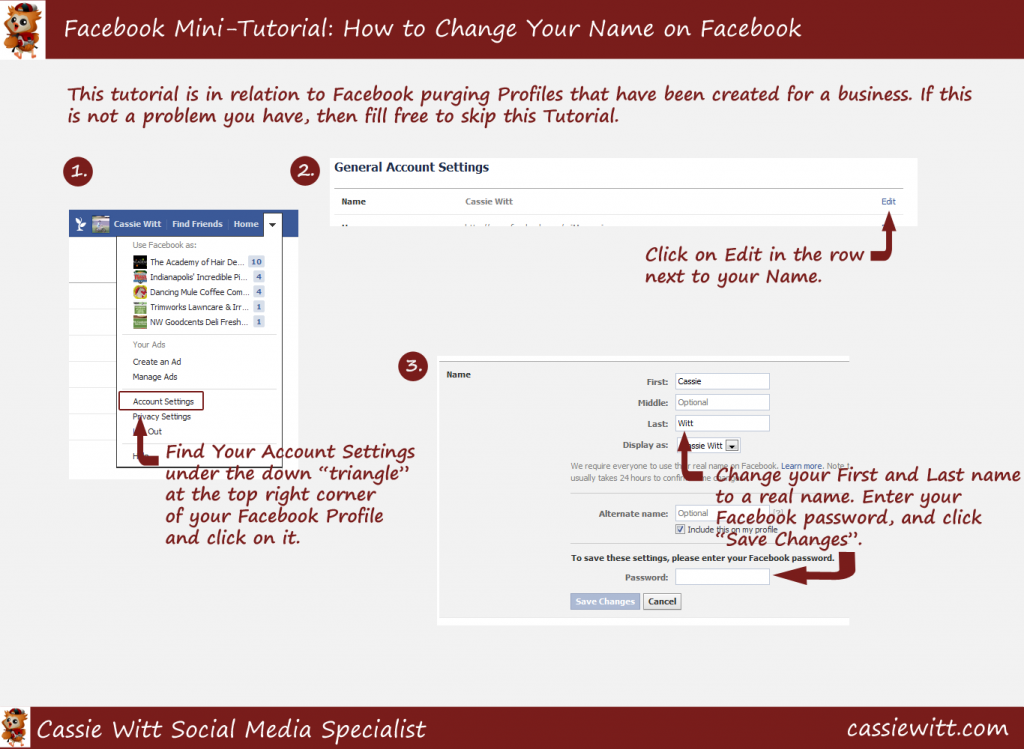 Author Details
Hi, I'm Cassie. I love books and media and think that they have the power to change our lives. I also love to write, play games like Minecraft and ARK, cook, run, and dance. For a living, I provide Digital Marketing and Website Design services under the company I founded Team 3 Media. Currently, I'm working on writing more, learning to bake better bread, and staying consistent with my health and fitness goals.